COME AND JOIN US FOR FOOD, FUN, RAFFLES, AND VOLLEYBALL
SEPTEMBER 30TH AND OCTOBER 5TH
HEART AND SOUL + SATELLITE HIGH SCHOOL VOLLEYBALL TEAMS = BREAST CANCER AWARENESS AND COMMUNITY SUPPORT
In the tradition of supporting breast cancer organizations in our local area, the Volleyball teams of Satellite High School are again hosting their annual Pink Out.  Long Doggers, in Satellite Beach, will again host the Pink Out Basket raffles and they will donate money from the sale of food on September 30, 2023 from 11 am to 7 pm..  On October 5, 2023, the Volleyball teams will have their Pink Out game at home.  Starting at 6:30.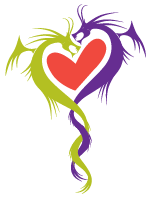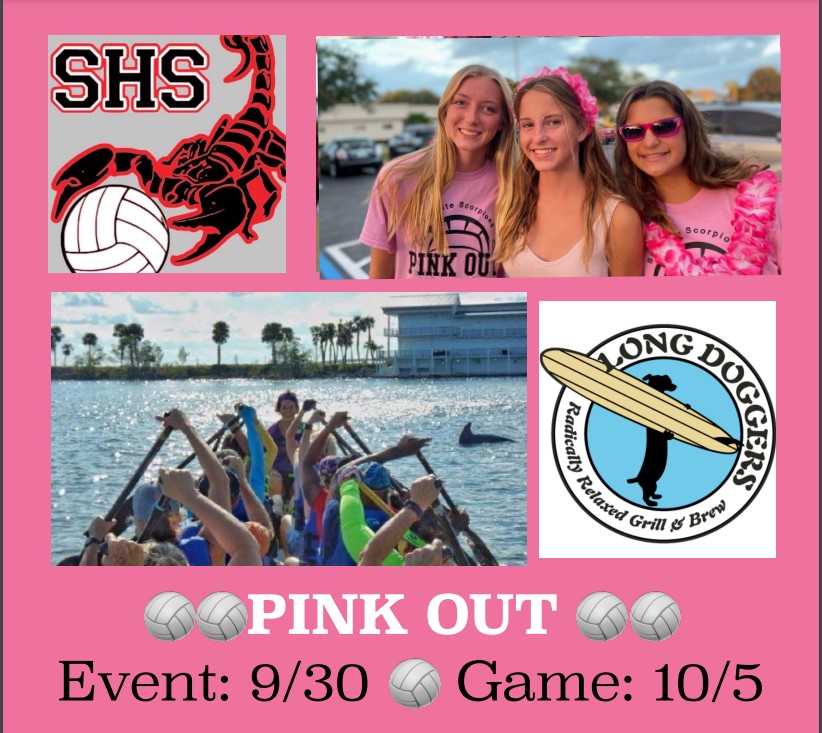 Heart and Soul Dragon Boat Club and Satellite High School Volleyball Teams join together in an effort to expand Breast Cancer Awareness and Support in our local communities.
In 2022, Heart and Soul's Breast Cancer Team were the recipient's of the Satellite High School Volleyball teams' PINK OUT Donations.  These monies have been used to support our team of Breast Cancer survivors and club activities.
In 2023, Heart and Soul Dragon Boat Club's Breast Cancer teams have again been designated as the recipients of the donation.  These monies will be used to assist breast cancer patients, within our communities, who are in need of financial assistance.
We are proud to be a part of such a worthy endeavor and thank Coach Bolten and his teams for this generous donation.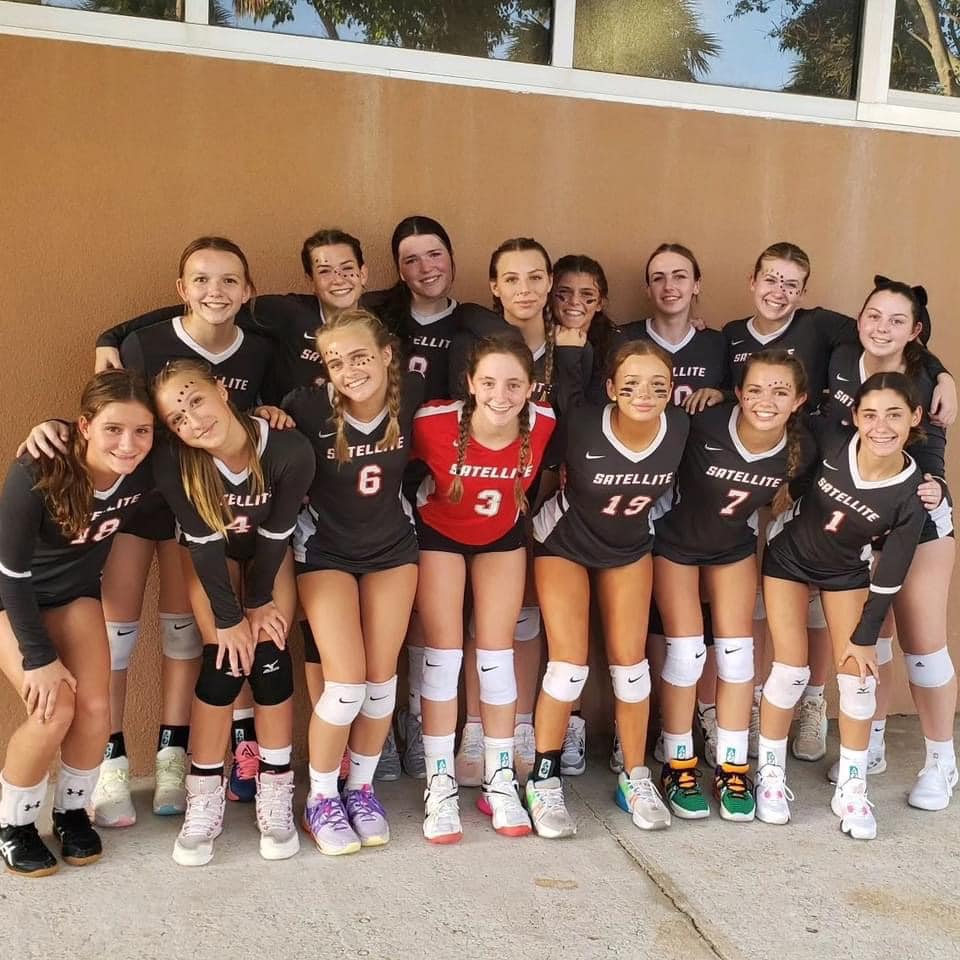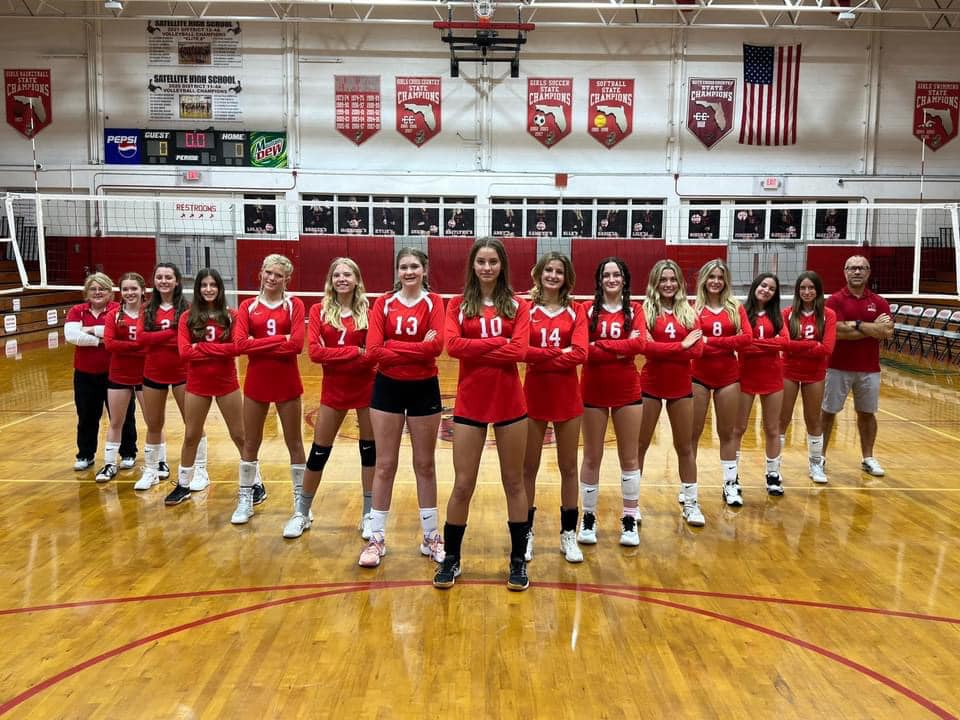 Dragon Boat Festivals and Races
Dragon boat festivals, races, and training camps are held throughout the country and around the world including many right here in the state of Florida.  The festivals and races include breast cancer survivor teams, supporter teams, club teams and community teams.  Most participate for the thrill of the competition and some just for the fun and camaraderie of racing. The length of the races varies from 200 meters to 500 meters, sometimes including a 1000 or 2000 meter.
In addition to festivals and races, there are several dragon boat training camps held around the state. We are fortunate to host the Space Coast Dragon Boat Camp at our local venue out of Oars and Paddles Park every year for three weeks in April.
2023 Dragon Boat Festival Schedule
04/01/2023
Inverness Dragon Boat Festival
Inverness, Florida
04/29/2023
Tampa International Dragon Boat Festival
Rocky Point Lagoon
09/16/2023
Synergy Dragon Boat Festival
Hollywood, FL
10/14/2023
Orlando International Dragon Boat Festival
Orlando, FL
11/04/2023
Lake Hernando Dragon Boat Festival
Hernando, FL
12/09/2023
Synergy Dragon Boat Festival
Hollywood, FL
OPEN PRACTICES
Held on Sundays and Wednesday evenings, from 6:15 PM - 7:30 PM.
Coached by Lead Coaches, Laurie Gieniewski and Roxanne Leavitt.
Paddling on the Banana River is an amazing experience in itself.  Add a rigorous practice to boot and you have it all.  Thanks to our steers and assistant coaches for their help.  Thanks to the paddlers, who after a practice, have committed to the proper care of the vehicles that afford them the opportunity to  Paddle Weekly on the Banana River.
HIGH INTENSITY PRACTICES (HIP)
Held on Saturday mornings.
Coached by Lead Coach, Bridget Ehlers
Designed for paddlers who have a higher level of paddling and competitive experience, these practices are about endurance, increasing one's ability to go faster and for longer distances.
RECREATIONAL PADDLE EVENTS
Occurring on a week day morning
Organized by Helen Kingston and Assistant Coach, Amy Ianneco
The key words are leisurely, fun, and dolphins.
HEART AND SOUL DRAGON BOAT CLUB EVENTS
THE DYER CAMP
John and Linda Dyer, from Burlington, VT, were the co-founders of our organization.  They reside here from September - April of each year.  In years past, John has held an Introduction to Dragon Boat session for men, and most recently, Linda held a camp for paddlers, from FL, NC, VT and SC, who were attending the 2023 IBCPC Festival in Cambridge, New Zealand.  In February of 2023, they held a weekend camp for our members.
HEALTH FIRST PADDLE EVENT
FEBRUARY 25, 2023
We were able to provide a paddle event for our Premier Sponsor, Health First.  It was a success and it is going to be repeated in August 2023 and again in January 2024.
OUTREACH PADDLE EVENTS
JUNE 10, 2023
Our first Outreach event was such a success!  Opening up our boats to the community of Indian Harbour Beach and L3Harris. 
Brevard County Zoo Day
JUNE 17, 2023
As part of our participation and support of the "Our Legacy Campaign", Heart and Soul members have been invited to a tour and update on the program.  Pictures and Info to follow!
Cancer Survivor Paddle Event
July 8, 2023
A Paddle event was held for Cancer survivors, including Breast Cancer survivors.  Organizations represented included Space Coast Survivors, Driven by Heart, Brevard Cancer Care, and Complimentary Cancer Care.
HEALTH FIRST Paddle Event
AUGUST 19, 2023
Just one of our ways to say THANK YOU for being our Premier Sponsor.  
Their Sponsorship has been renewed again for 2024.  Thank you to the Health First administration for their continued support. 
Community Outreach Paddle Event
FIT
August 9, 2023
A group of FIT students in the Civil Engineering Departments and members of the Concrete Canoe Club, paddled with members of Heart and Soul
TURTLE KRAWL 5K
September 9, 2023
The Sea Turtle Preservation Society has been protecting sea turtles and their habitat in Brevard County for more than 35 years. This year the Walk was held in the James Nance Park in Indian Harbour Beach.  Members of our club participated.
Community Outreach Paddle Event
August 26, 2023