Health First Foundation is currently our primary sponsor at the "Premier Level".
We also have several other levels of sponsorship available, each including
different levels of your company's exposure on our website, literature, free memberships and more
Visit The Health First Website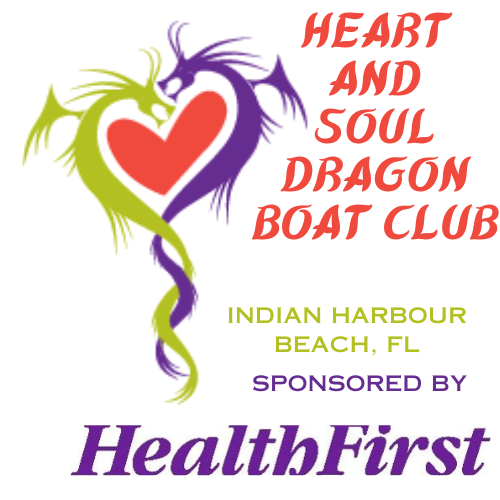 Heart and Soul Dragon Boat Club is located in Indian Harbour Beach, Florida. We are a 501(c)3 non-profit organization formed by breast cancer survivors and supporters dedicated to sharing the sport of dragon boating with the Space Coast Community. All members agree to actively participate in programs to promote breast cancer awareness and community giving.​
​To encourage the development of the sport of dragon boat racing in Brevard County.
To provide a framework for development of Breast Cancer Survivor crews, (BCS); All Cancer Survivor crews (ACS) and Adaptive Paddler crews (ADP) (wheelchair confined athletes; athletes with lost limbs; blind athletes).
To provide an athletically based support organization for cancer survivors and their families.
To build dragon boat racing teams in all IDBF racing categories.
To create a life affirming union of cancer survivors
To encourage all of our members to enjoy the highest quality of life possible through improved fitness and health.
To experience the joy and excitement of competition.
To form lasting friendships
To create an organization that is a positive force in the community.
A BIG THANK YOU TO THE SENIOR B TEAM CLUB CREW WORLD CHAMPIONSHIP SPONSORS IN 2022!